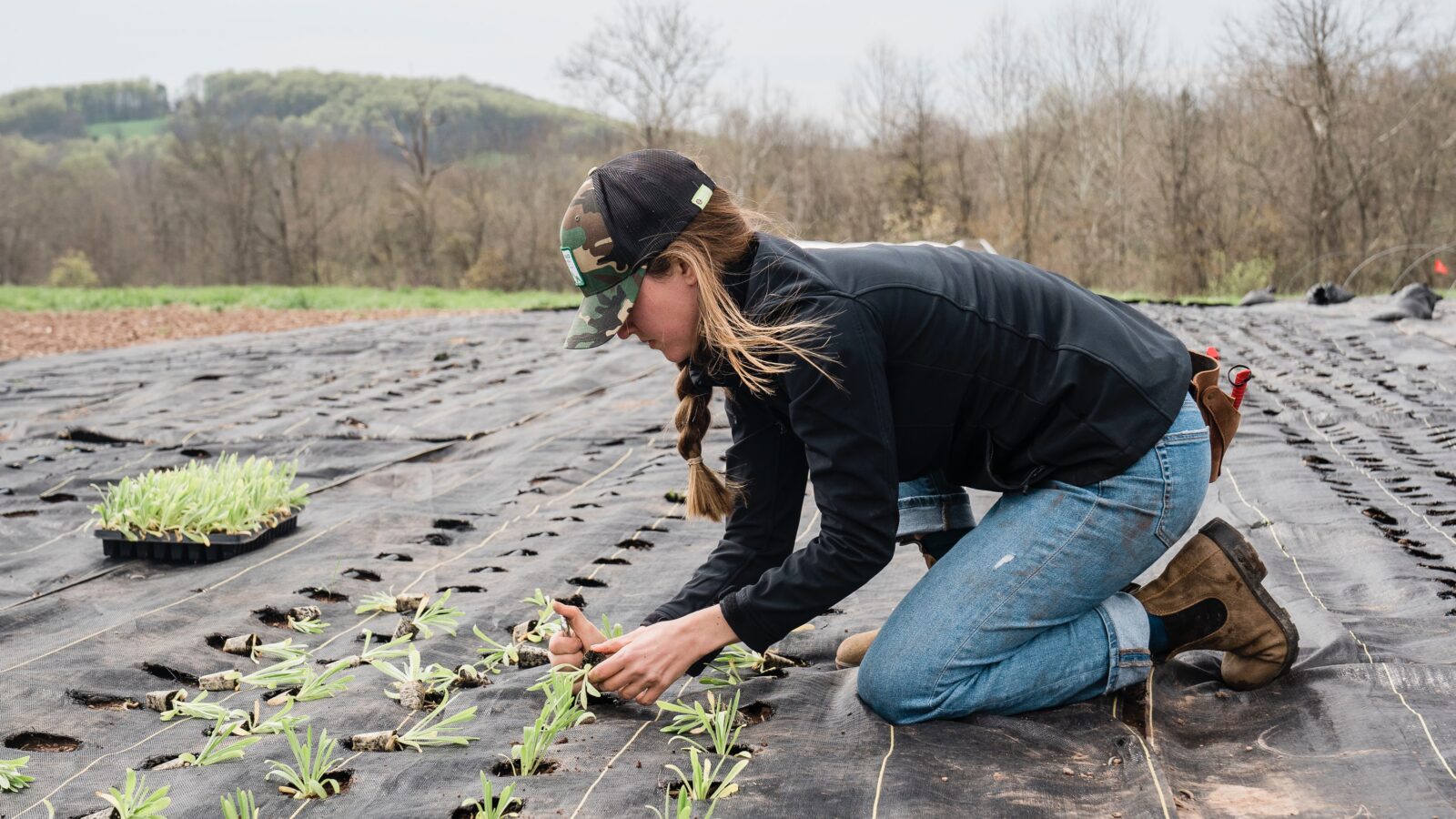 Women play a vital role in American agriculture. More than half (51%) of all farming operations in the United States have at least one female operator, according to the 2019 Agricultural Resource Management Survey.
To mark Women's History Month and in honor of International Women's Day (8 March), we look back at some of the many inspirational female farmers and fishermen we have interviewed over the years.
Tina Hinchley, dairy farmer
We were blown away by Tina's commitment to sustainability and animal care when we spoke to her for our This Is U.S. Sustainability podcast. Her barn offers the ultimate in cow comfort, with waterbed mattresses and fans to keep the animals contented and cool and milking robots that relieve animals from the pressure of their milk (and reduce potential infections). Listen to our chat with Tina.
Jennifer James, rice farmer
When it comes to sustainability, Jennifer is a leading force. This award-winning, fourth-generation farmer grows corn, rice and soybeans in Newport, Arkansas with her husband and dad. The family takes pride in providing winter habitat for waterfowl and using practices that conserve the natural resources that have sustained their family's livelihood for more than 100 years. Jennifer is very active in the rice industry, holding several leadership positions including as Chairman of the USA Rice Sustainability Committee and as Vice Chairman of the Arkansas Rice Farmers Board. Read Jennifer's story.
Maddie O'Laire, fisherman
When native Texan Maddie encountered an Alaskan father/ son duo while trekking in Nepal, little did she know that her life was about to change. The pair claimed to live in the most beautiful place in the world – she felt compelled to see it for herself and has been there ever since. Today, the mother-of-three runs a direct-market business selling wild, sustainable Alaskan seafood as well as joining in commercial fishing with her husband in Bristol Bay. Read more about Maddie.
Kim Gallagher, fifth-generation farmer
Kim grew up on a farm but didn't ever see herself as a farmer. "When I was younger, not a lot of daughters were taking over their family farms," she told us. She ended up studying biology at college and was a science teacher for 10 years. However, when her father became ill, she spent an increasing amount of time on the farm, which she now runs with her husband. She is hot on water conservation, grows cover crops as well as rotating her crops to boost soil health. Read our interview with Kim.
Kimberly Ratcliff, rancher
Like Kim Gallagher, Kimberly's route into farming wasn't a straight line. She worked as a brand specialist in a leading financial services firm in New York City but gave it all up when her parents purchased Caney Creek Ranch in 2007. Today, the original 150-acre ranch has grown to a 2,500 acre environmentally sustainable and scenic operation under Kimberly's direction. Kimberly is actively involved in the ag community; she helped set up 100 Ranchers, a non-profit organization that unites local ranchers to share best practices, and is committed to advancing opportunities for black producers. Read Kimberly's story.
Christine Gemperle, almond farmer
When we were planning our USSA podcast on water conservation, California almond grower Christine Gemperle was the obvious choice. We have spoken to her several times and what really comes across is her can-do attitude. No problem is too great for her to overcome! Case in point: Christine has risen to the challenge of climate change and fluctuating irrigation water by implementing practices that have reduced water consumption in her orchards by at least 20%. Tune in to our podcast interview with Christine.
Amy Bruch, organic farmer
Amy was voted 2021 Organic Farmer of the Year and with good reason. Since taking over the reins of her family farm in York County, Nebraska after the sudden death of her father, Amy and her husband have evolved the operation into one of the country's most cutting-edge organic farms. Reading about Amy's commitment to soil health, we were convinced she would make an excellent interviewee for our soil conservation podcast. And we were right! Listen to our chat with Amy.
Casey Cox, peanut farmer
Casey is a sixth-generation farmer on the Flint River in Georgia. Her family farm, Longleaf Ridge, produces sweet corn, peanuts, field corn, soybeans, and manages both natural and planted timber. Before returning to the farm full-time, she served as Executive Director of the Flint River Soil and Water Conservation District for five years. Casey's unique claim to fame is teaching Sesame Street's Cookie Monster and Gonger where peanut butter comes from! Learn more about Casey and her passion for sustainability.