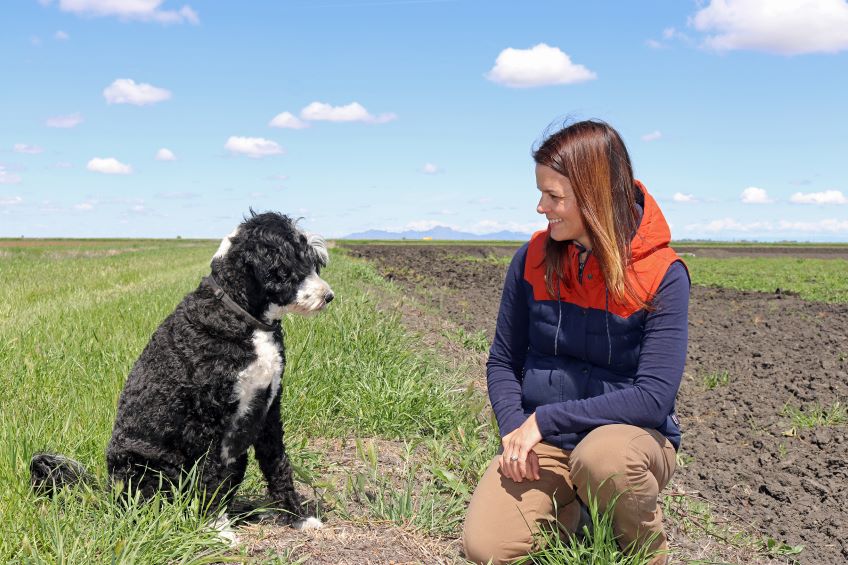 11 years ago, former science teacher Kim Gallagher swapped the classroom for the farm. Today she runs Erdman Farms, Colusa County, California with her husband Pat, taking over the reins from her parents. We spoke to her about some of the practices she's using to conserve water and boost soil health.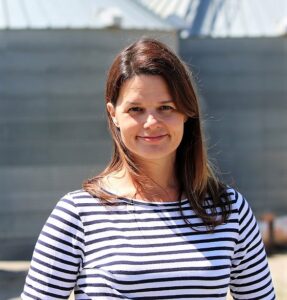 How did you get into farming? Was it always part of your plan?
I didn't ever see myself as a farmer. I grew up on a farm but, when I was younger, not a lot of daughters were taking over their family farms. I ended up studying biology in college and was a science teacher for ten years, but then my father became ill and I started spending as much time with him as I could—riding around in trucks, checking on the many crops including rice, almonds, wheat, walnuts, and sunflowers. This led me to make a career change in 2009. I now run the farm with my husband, carrying on the business established by my parents that has been passed down over generations.
How long has your family been farming?
For quite some time! Farming runs on both sides of my family; both of my grandfathers were farmers. I'm a third-generation farmer on one side of the family, and a fifth-generation famer on the other!
How big is your farm and what do you grow?
We have 2,400 acres of land (over 970 hectares) and grow a fairly diverse range of crops including almonds, rice, walnuts and row crops such as wheat and sunflowers.
What are some of the challenges you face as a farmer in California?
The biggest challenge we face is probably the uncertainty of the water supply. From droughts to floods we seem to experience weather in extremes. We try to conserve what we use such as through water recycling stations for our rice fields and drip irrigation in row crops and orchards. Water is a precious resource and without a reliable source it makes our job even more precarious.
What are some of the other ways that you and other farmers are conserving water and giving back to the environment?
We share the water we've got with migratory birds, fish, and other species as flooded rice fields create habitat for animals to feed on throughout the year. New research shows just how critical the flooded winter rice fields are not only to waterfowl but also to hungry young salmon that feast on the microorganisms that live there.
Can you tell us about some of the other sustainability practices you use on the farm?
In the past few years, we've started growing cover crops. We have an organic field and have been trying to figure out how best to increase the nutrients and nitrogen in the soil and almost stumbled across cover crops as way to do that. In our almond orchards we had been planting mostly for pollinator habitat but then we started planting between the rows of the trees and realized that there's actually a benefit to the soil.
We also rotate our crops of tomatoes, vine seeds, sunflowers and wheat. The wheat helps put straw and carbon back in the soil, which is so important for soil health. The key is to keep carbon and nitrogen in balance by changing what you grow.
What are some of the lessons you've learned about improving soil health?
One of our challenges has been working out how we can improve the soil in an economical way. I tend to get really passionate – coming up with innovative cover crop mixes – but I've learned that we need to stay focused on what's affordable, feasible and will benefit our cash crops. Of course, that takes time; I initially expected to see results almost overnight but now I have much more realistic expectations.
What I've also learned from other farmers is that it's important to have a living root in your soil for as long as possible. So, if you have a summer crop then you also need a winter cover crop.
Why does sustainability matter so much to you?
Conservation and good stewardship were part of my education on the farm and at St. Mary's College, where I studied biology. We are the beneficiaries from those who came before – like my grandfather, Fritz Erdman – who made the soil a little better for us which is why there is a responsibility to make it a little better for the next generation. It's about not wasting anything and taking care of what you've been given. That's why we've planted acres of hedgerows and pollinator habitats around the farm hoping to pass down sustainability practices to the next generation. Maybe one day my sons Sean and Alex will pick up where I've left off and continue the family farming tradition.
Are there any other practices you're planning to experiment with in the future?
I'm interested in exploring a number of different practices that I feel will really increase the microbial activity of the soil. This might include having animals graze the cover crops and using a little less tillage.  It's about having patience, doing it one step at a time and ensuring that it's economically viable – albeit I do think it ultimately pays for itself.