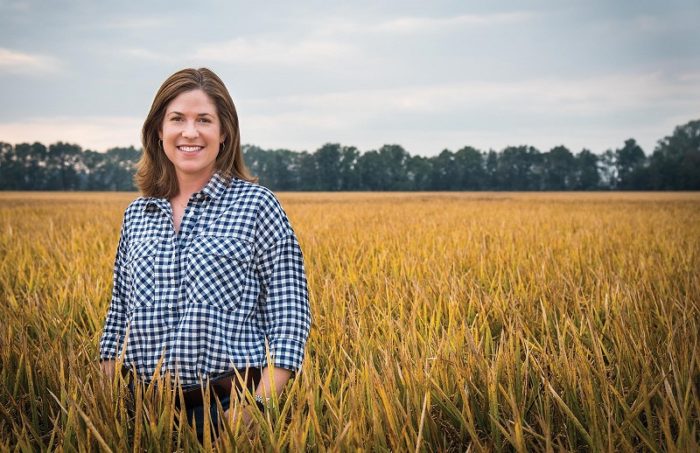 USA Rice farmer, Jennifer James, spoke to Farmers Guardian, a leading UK farming publication, about her life and what it is really like growing rice, corn and soybeans in Arkansas. The interview provides a unique insight into farming throughout the year, from the hustle, bustle and excitement of harvest time to the transformation of the rice fields into a home for migrating waterfowl in the winter. Jennifer's deep-rooted commitment to sustainability comes across loud and clear. She is the fourth generation in her family to farm and, one day, she hopes to pass on the land to her son.
Farmer Q&A: 'British and US farmers take great pride in looking after the land for future generations'
Jennifer James runs an arable farm in Newport, Arkansas and after graduating with a degree in Agricultural Business, she went home and is now in charge of H&J Land Co.
How big is your farm?
We farm 6200 acres. About half is owned by family in some way – by aunts, uncles, my father, my brother, myself and my husband. I am the fourth generation to farm in my family. Some of the land we own has been in our family for over 100 years and has been recognized as an Arkansas Century Farm.
Please could you describe the farm?
The land is flat with many sloughs, creeks and rivers to provide good drainage and water for our crops. Fields of rice and soybeans dominate the landscape. The green winding levees that hold the water on the rice show the contour of the Earth for all that pass by. Farm homes and grain bins dot the highways as you travel through the Arkansas Delta. To the west from my office you can see the foothills of the Ozark Mountains. Agriculture is the largest sector in our area as the land is highly productive for crops. The area produces long and medium grain rice, soybeans, corn, grain sorghum, winter wheat, peanuts, cotton and various specialty crops such as tomatoes, watermelons and strawberries.
What do you grow and what ground conditions do you need?
Our corn, rice and soybeans are planted in dry soil. Our area of Arkansas has diverse soil types from sandy to silt loam to clay, each type more conducive to a crop. For instance, rice needs a flooded environment, so the clay soils are better suited to hold water. Corn likes a well-drained soil and the sandier areas produce the best corn. Therefore, we rotate our crops based on soil types in many instances.
How much to do you produce and where does it go?
We produce above state average yields on all the crops we raise. Our farm specializes in identity preservation and specialty crops. Much of our production is under contract with buyers for a specific product. We raise non-GMO corn that is sold to a non-GMO poultry producer for feed.
We also have a very small seeded non-GMO soybean that goes to Japan to make natto. We grow several types of rice as well, all non-GMO. Any excess of each crop we sell to local buyers for the best market price.
Our operation utilizes the commodity market to hedge our crops as well. We make a marketing plan in the winter months along with our crop budgets. This helps us to be better able to choose price levels that correspond with our costs and hopefully achieve a profit.
When do you harvest?
Our harvest typically begins in mid-August with corn, quickly followed by rice. We operate two harvesting crews, one for corn and the other for rice, and this is a very busy time. Once the corn harvest is complete, we all focus on rice harvest.
Usually by early to mid-October rice is complete and we move onto our soybeans to finish up. The past several years we have been finished with everything by the first week in November. However, our 2018 harvest proved to be a huge challenge because of the weather conditions. All farmers were behind schedule due to a rainy fall season.
What does your day consist of?
Each day brings its own unique challenges, whatever the time of year. I rise early to spend quiet time with a devotional and plan my day. I usually exercise and then get my family off to work and school.
Our 17-year-old son is a Senior in high school, so he is almost self-sufficient but still needs mum on occasion. During the planting season it is all hands-on deck to prepare the fields for seeding. It is a busy but exciting time of year as we get to start with another crop.
The next few months are about caring for the crop and doing all we can to produce a safe, high quality product for the consumer.
As harvest begins, the excitement returns to see the fruits of our labor. The combines roll in the fields and semi-trucks deliver the grain to our grain bin facility for drying.
Once the grain is dry, we deliver to the buyer and the process to bring the food to the consumer continues. Wintertime is spent analysing the prior crop and preparing for the next. Much care and time is given to planning for the best varieties and field placement as well as budgeting and marketing.
During the winter, the harvested rice fields become the perfect playground for migrating waterfowl too. The fields are full of ducks and geese. The food from the rice is the perfect attraction to refuel the birds for their migration. Many farmers catch rainfall to flood the rice fields in the winter and to help create a habitat for the ducks and geese.
What are the biggest problems facing your industry?
Weather is always our largest risk but, we do not have any control over that problem. We do all we can to produce the most bushels and must have faith that the weather will not destroy our efforts.
Farmers are price takers and not price makers. We must take the price we are given, even if it is below the cost of production. Because of the length of the growing season, we can plant a crop with a positive market signal but that may change drastically before harvest, as we saw with soybeans last year.
What is the biggest difference between British farming and farming in the USA and your area?
As countries, our disparity in size and geography makes differences inevitable. One aspect that is close to my heart though, and that I am sure I share with my British counterparts, is sustainability. British farmers and USA farmers take great pride in looking after the land for future generations, doing all we can to produce food for a growing population while conserving resources and protecting our environment.
But we have different ways to get there. In the UK, certification schemes are mainly used to demonstrate sustainability, whereas in the USA we focus on continuous improvement by employing voluntary schemes that are independently verified or benchmarked. Neither approach is right or wrong – just different.
"That is the reason why 20 organisations including The USA Rice Federation came together to form the U.S. Sustainability Alliance, to promote a better understanding of the USA's approach to sustainability."
What about exports?
Rice farmers rely heavily on exports and practical, fair trade for our production. The current trade war between the USA and China has dramatically affected the soy market and our soybean prices are down to unprofitable margins. These challenges have spilled over into other markets as well.
Are there any traditions in Arkansas?
We love American football in the South – Friday nights in the fall are spent cheering for our local high school team, and Saturday's are for college games.
What does the future look like?
I always try to be optimistic, but with the current farm economy it is difficult. There isn't much profit, if any, in the crops we are producing. I know that my area will always produce food for the world and we will make it work some way, somehow.
Our son has dreams of obtaining a college degree and returning to the farm and that is our succession plan at this time.
I dream of watching him till the same soil just like generations before him, and one day maybe there will be grandchildren to teach about the importance of protecting our natural resources and providing food for families all over the world.