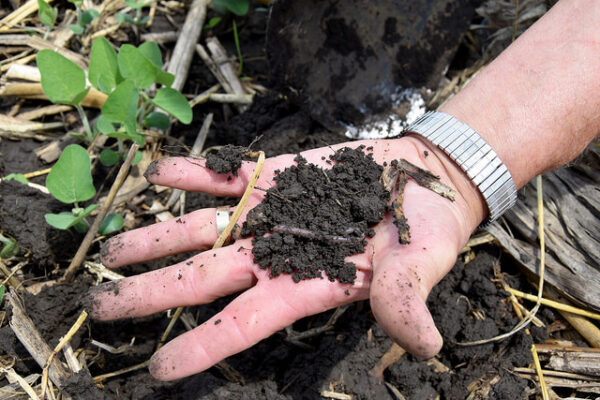 Achieving environmental sustainability requires many moving pieces. One of the most critical pieces— that often appears deceivingly simple— is maintaining soil health.  Yes, the "dirt" beneath our very feet is a big factor in sustainability.
But why?
Nothing can grow in poor soil. "Soil isn't an inert growing medium, but rather… an intricate symbiotic ecosystem [that] can be managed to support plants and animals," reads a United States Department of Agriculture (USDA) soil guide. Crops absorb and thrive off the nutrients in the soil; when the soil is strong, the crops are more likely to be strong too. Minnesota Dry bean farmer, Jim Anderson understands that basic principle, but it wasn't until he traveled out of the U.S. that he saw firsthand soil destruction caused by over-grazing, poor soil management and desertification. It really brought home the importance of soil's role in environmental sustainability.
As with everything, in the difficult work of agriculture, there's no single, simple solution.
"It's not cookie cutter, you have to figure out what works for you on your operation. Everybody's farm is different, so apply the principles to your operation and make them work for you," said Jim Johnson soil and crop consultant for the Noble Foundation speaking about the various methods farmers use to maintain soil health at the 2017 Soil Health Symposium in Palestine, Texas.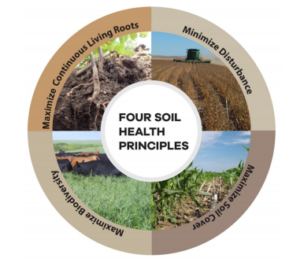 The principles Johnson is referring to are The Four Soil Health Principles as shared by the USDA: 1) Minimize disturbance 2) Maximize soil cover 3) Maximize biodiversity and 4) Maximize the presence of living roots. These four principles work together to help ensure a flourishing soil ecosystem. It's decades-long, trial-and-error work that farmers put effort into because— it's simply the right thing to do.
"This is serious—it's serious for the security and well-being of our country; our nation. I believe that with my whole heart," said East Texas producer, Jimmy Downe told a USDA reporter at the symposium.
Jamie and Rodd Beyer of Minnesota believe it too. The U.S. soybean farming couple has taken on the soil practices from previous Beyer generations and also work tirelessly to implement new soil health methods. In recent years, cover crops have become a game-changer. The Beyers have experimented to find the right cover crop that will nourish the soil for each cash crop. It's "been fantastic for preventing erosion and weed control," Jamie wrote in a blog for ussoy.org. As weather patterns change, the Beyers look to their team of agronomists, consultants and even a soil scientist to help them measure, assess and adjust practices that will continue to contribute to environmental sustainability—starting with soil.
First generation corn, North Carolina soybean and specialty grains producer, Russel Hedrick has a slightly different approach. In his first year ever of farming, "he practiced 100 percent no-till and planted cover crops across part of his land." When his farm yielded more than the county average, he knew he was on to something with soil health. "That really lit me on fire to keep growing and trying new things to improve soil health." Hedrick told National Resources Conservation, reporter Elizabeth Creech. Hedrick also acknowledged to Creech that while it is not easy, it's always worth it.
American farmers do the environmental sustainability work of maintaining soil health, not necessarily because it comes easy. It can be difficult, sometimes even expensive as the farmers quoted concede, but what is more expensive is destroying fertile land and not being able to feed the world.
Thus American farmers are continuing to embrace environmental sustainability, as Jamie put it: "I want people to know that farmers are environmentalists. We take care of the soil, water, and wildlife. As fourth generation caretaker for this land, this living dirt is my family's legacy."
By Cornelia Poku, U.S. Sustainability Alliance