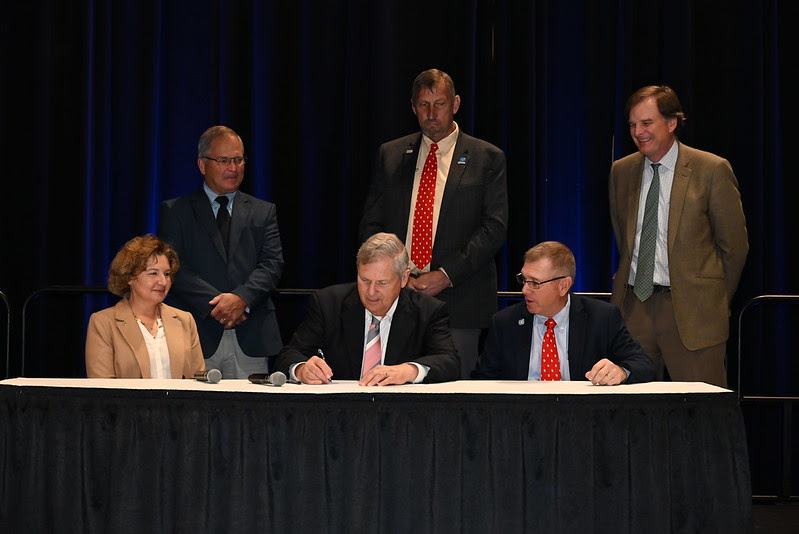 U.S. Secretary of Agriculture Tom Vilsack heralded the beginning of a "transformational chapter in American agriculture, the revival of rural America as well" as he launched the first projects in U.S. Department of Agriculture's (USDA's) $3.1 billion Partnerships for Climate-Smart Commodities program. Vilsack also awarded new grants worth a total $29 million to boost domestic fertilizer production.
Vilsack was at Commodity Classic 2023, America's largest farmer-focused event, where he signed agreements for two projects designed to boost soil health, which were each awarded $95 million. These are two of 141 projects that will receive a total $3.1 billion investment from USDA as part of "a new concept that will provide additional income for farmers as they embrace climate-smart practices".
"It's about helping famers move beyond relying solely on commodity sales and farm program payments," Vilsack said. "We're want farmers to benefit from additional business ventures to provide income not necessarily directed to the marketing of specific commodities. The climate smart commodities grant project does that."
The first project is Farmers for Soil Health, a partnership that will look to increase cover crops by 1 million acres over 20 states. Led by the National Fish & Wildlife Foundation, the project also involves the National Corn Growers Association, the United Soybean Board, the National Pork Board, and other partners.
The second project is the Midwest Climate-Smart Commodities Project, led by the Iowa Soybean Association with partners such as PepsiCo, Cargill, JBS, and Target. This five-year program will provide direct financial incentives for farmers operating in 12 states to implement on-farm practices resulting in positive environmental incomes across millions of acres of farmland.
"This is a really important day for American agriculture," Vilsack said. "It is the beginning of a process of a number of projects that are going to transform how we farm, where we farm, what we do to produce sustainably produced crops and livestock products."
Secretary Vilsack also announced the first round of funding recipients in a new grant program to expand domestic fertilizer capacity. He said that $29 million grant offers had been made to eight projects in Alabama, Colorado, Massachusetts, Ohio and Washington aimed at modernizing equipment, advancing climate-smart practices and building production plants, among other activities.
"I know that increased costs for fertilizer and other inputs have put a strain on farmers and cut into the bottom line. The Biden-Harris Administration and USDA understand the importance of taking on the root causes and need to invest in the agricultural supply chain here at home to create a resilient, secure and sustainable economy for the long haul," Vilsack said.