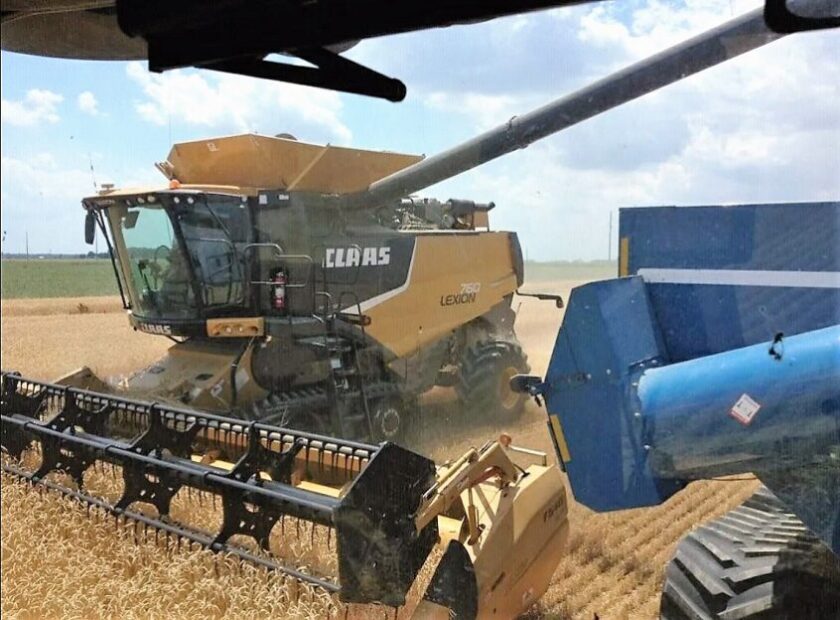 Doug Goyings has been a full-time farmer his entire life, managing Goyings Farms in Paulding, Ohio, with the help of his wife Diane and son Jeremy. He is constantly striving to implement new practices and innovations that make the farm more efficient, more sustainable and more profitable.
Doug also plays an active role in the improvement of the agriculture industry as a whole. He has served several times as the president of the Paulding County Farm Bureau and in 2019 was Chairman of the executive board of U.S. Wheat Associates. Currently he is serving on the Small Grains Check Off board for Ohio.
We spoke to Doug about the innovations that have helped set Goyings Farms apart as leaders in technology, conservation, efficiency and profitability.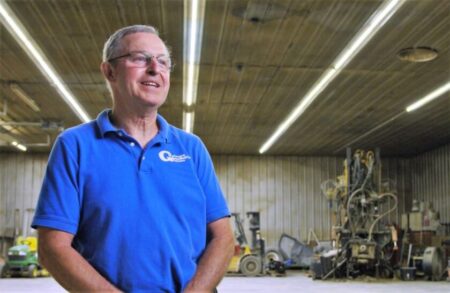 Doug, how long has Goyings Farms been in your family?
Goyings Farms has been in my family for five generations. We have been working hard and going strong on our farm in northwestern Ohio since 1884.
For me, farming is very much a family affair. My wife Diane is actively involved in the operation, as is my son Jeremy, who is my business partner, and his wife Jessica. And my hope is that my grandsons Axel and Garrett will follow in my and their father's footsteps.
How much land do you own and what do you grow?
Goyings Farms is 4,500 acres (just over 1,800 hectares). We grow soft red winter wheat, soya beans and corn.
What role does technology play in your operation?
Technology is the lifeblood of our operation. Our aim is to be a leader in innovative agricultural practices that incorporate precision and conservation. We were one of the first large farms in the area to successfully implement no-till planting practices into our soya bean and wheat crop rotations. And we were the first farm in Paulding county, and the second in the state of Ohio, to utilize Real Time Kinematic (RTK) auto steer in our farming operation. This technology not only makes our operation more efficient – it has also allowed us to be the first farm to incorporate strip-tillage into our corn production, giving us pass-to-pass and year-to-year accuracy of less than an inch.
Can you tell us more about strip-tillage? How does it work and what are the benefits?
With strip-tillage, we are able to significantly reduce the number of passes across the ground in preparation for a corn crop. In the past we would have made up to five passes across the land, to fertilize, plow, disc and land level twice, but now we cross the ground only once, which is much more efficient and sustainable. Our strip-tillage practices differ from other strip-till practices in the area. While many other strip-tillers work the ground from 6-8 inches deep in a narrow band, our strip tiller works the ground between 12-14 inches deep. And the subsoiler-based shank that our tool utilizes also lifts the soil profile between the strips, breaking the compaction layers while minimizing surface cover disturbance, which means that less carbon is released into the atmosphere.
We then add the fertilizer required, based on soil tests, directly in the tilled strip. We first started using variable rate application like this in 2014 and now sample all of our fields on 2.5-acre (approx. 1 hectare) grids. This ensures that the correct amount of fertilizer is placed on every changing acre and the fertilizer is readily available to the corn plant that will be planted directly on the strip in the spring.
What are some of the other precision technologies you use on the farm?
One of the other technologies we use includes a set of sprayer booms mounted to one of our tracked Cat tractors. The main reason we invested in this was to eliminate much of the compaction that had been caused due to the use of a wheeled sprayer operated by a local co-op. As well as addressing the compaction issue, the new sprayer also allows us to lower our fertilizer and chemical use and costs with an auto boom system. This system controls the application rates and coverage areas of the sprayer based on GPS guidance. The system minimizes overlapping of chemicals and fertilizers by automatically turning off boom sections if they are crossing an area that has already been sprayed.
We also use GPS-based yield mapping on our combines, scales on our grain cart and truck scales at our grain site. This allows us to keep precise records of exactly how much crop was harvested from each field, as well each section of the field.
Why is conservation so important to you?
We respect the land that provides for our families and others and firmly believe that the land should be harvested each year with the soil in better condition than it was at planting.
 Explore Doug's story in more detail: