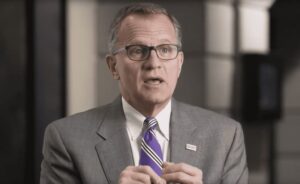 U.S. soy farmers are the "ultimate stewards of the land"
U.S. soybean customers across the world demand a product that is sustainably grown, and U.S. farmers are continually adopting innovations to meet and exceed their expectations for soy sustainability, says Jim Sutter, CEO of the U.S. Soybean Export Council.
Delivering a keynote address at the virtual International Grains Conference, Sutter explained how "the U.S. soy industry can be a solution to global challenges, by mitigating climate change through safe, sustainable farming practices and by providing essential protein and nutrition to feed a growing population."
A History of Conservation
U.S. soy farmers have a long tradition of conservation and "are proud to call themselves the ultimate stewards of the land," Sutter said.
Sustainability measures they are adopting include:
Programs to help preserve wildlife habitats and improve biodiversity
Soy sustainability practices, such as conservation tillage, crop rotation and cover crops, to maintain soil health and maximize the quality of their harvests
Precision agriculture technologies, such as motion sensors, smart irrigation, drones and autonomous vehicles, to help them produce more soy on the same or less land with reduced inputs
According to Sutter, these soy sustainability efforts are having a significant impact. Since 1980, U.S. farmers have increased overall soy production by 96%, while reducing soil erosion by 66% and overall land use by 35%. Greenhouse gas emissions and energy use have also decreased – by 41% and 42% respectively.
Commitment to Continuous Improvement
However, for U.S. farmers, sustainability is not a result, it's a process and an ongoing commitment. To this end, Sutter highlighted U.S. Soy's continuous improvement goals for the next 5 years, based on benchmarks starting in 2000.
By 2025, U.S. soybean producers aim to:
Increase yield by another 10% by improving the adoption of narrow rows and the use of cover crops
Reduce land use impact by 10% (acres per bushel)
Reduce soil erosion an additional 25% (acres per bushel) by increasing the adoption of no-till conservation tillage, narrow rows and the use of cover crops
Increase energy use efficiency by 10% (BTUs per year)
Reduce total greenhouse gas emissions by 10% (measured by pounds CO2 – equivalent gasses emitted per year)
The U.S. Soybean Sustainability Assurance Protocol (SSAP) is one way that U.S. farmers can demonstrate their commitment to soy sustainability and continuous improvement. Sutter explained how SSAP is a certified aggregate approach audited by third parties that demonstrates sustainable soybean production at a national scale. It is quantifiable and results driven with mass balance international certification available.  It has been positively benchmarked against the European Feed Manufacturers Associations (FEFAC) soy sourcing standards, and it was approved by the Tokyo Olympic Procurement Committee for soy sourcing at the upcoming Olympic games, now planned for 2021.
Listen to Jim Sutter's presentation in full here and read more about the U.S. soy industry's sustainability credentials here (pdf).