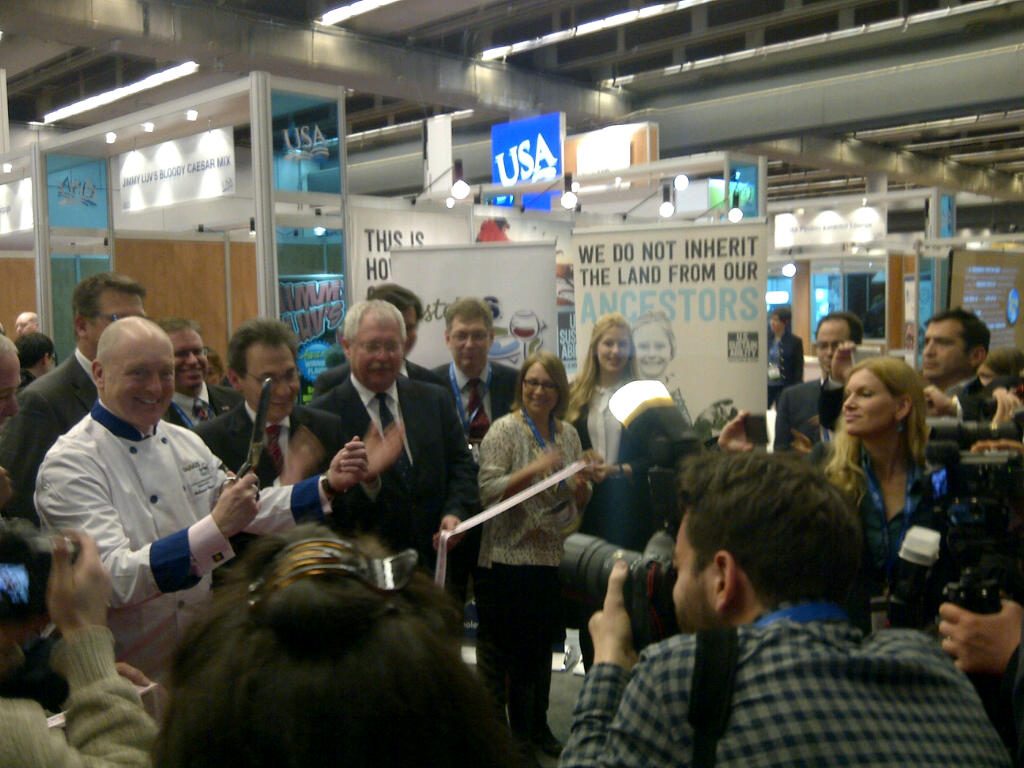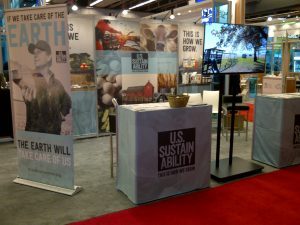 The U.S. Sustainability Alliance (USSA) was the featured booth at SIAL Canada when U.S. Ambassador Bruce Hayman cut the ribbon to officially open the USA Pavilion on Wednesday April 13 in Montreal.
Ambassador Hayman, in his chef's uniform later gave a cookery demonstration in the Pavilion featuring foods from the USA as part of the tasteU.S. promotional program. The USSA booth located in a prime location featured all the Cooperators information and product displays.
The eye-catching pop-up posters – "We did not inherit the land from our ancestors. We borrow it from our children" and "If we take care of the earth. The earth will take care of us" attracted a lot of attention and compliments for their appeal and message impact. A TV monitor on the booth featured the USSA infographic of a century of U.S. legislation plus rolling videos featuring producer stories from soy, rice and wheat.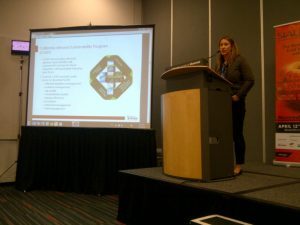 The booth display was designed and developed by our design team, bigwidesky, specifically for SIAL Canada but also as a multi-purpose range of materials which can be used at other USSA and USDA events.
As well as material and information about the USSA and the Cooperators, the booth also featured information and product displays from the American Peanut Council, Bard Valley Date Growers, the California Apple Commission, the California Blueberry Commission and the California Olive Committee.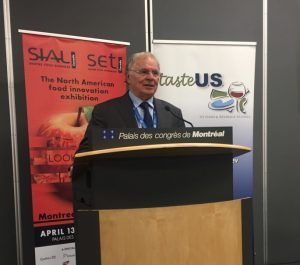 The USSA provided two speakers for a panel event focused on sustainability which was moderated by Jeff Zimmermann, Agricultural Attaché & Director of Marketing at USDA FAS Ottawa. Molly Spence, Director of North America for the Almond Board of California gave a detailed presentation on the sustainability program promoted by the Almond Board and how it dealt with issues such as assuring consumers on how almond producers were continually developing ongoing improvement in production, particularly when faced with challenges such as drought.
David Green, USSA consultant, gave an overview of the Alliance and its work promoting the conservation and sustainability of U.S. agriculture, fisheries and forestry. The main part of his presentation focused on the role of innovation in addressing sustainable agriculture and societal views, aspirations and expectations. He challenged the audience to personally contribute toward sustainability, perhaps by monitoring their own ideas of food waste such as clearing their dinner plates.
See here for the presentation. Following the presentations there was an engaging forty-minute question and answer session.