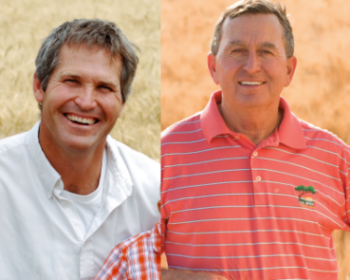 Wheat farmers across the United States are implementing sustainable farming practices in accordance with what makes sense for their land and their crops.
From coast to coast, the best part about the United States is its vast variance in people, towns, weather and landscapes. Each patch of land requires the right type of care according to its location.
When you think of it that way, it makes sense that sustainability can't require a one size fits all solution.
There are six U.S. wheat classes, grown in distinct regions and local micro-climates. Aggregate measures of sustainability are important, but they fail to capture the nuances of a crop that is grown across many different climates, soil types and farm environments. To demonstrate these differences, U.S. Wheat Associates has profiled six wheat farmers, each representing a different class of U.S. wheat and challenges specific to their region. Roy Motter and Mark Linnebur are two of those farmers who are committed to land preservation through a variety of sustainable farming methods.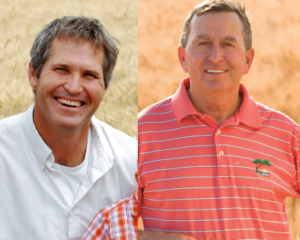 Motter farms alongside his two brothers-in-law in California's Imperial Valley. They have to manage water use in an arid climate and control crop diseases without the benefit of a cold winter between growing seasons. Their family farm, just over 1,000 hectares (2,471 acres), has thrived because they use crop rotation and best practices to maximize soil health and production while minimizing required inputs.
By contrast, Linnebur, who farms more than 10,000 hectares (24,710 acres) with his five brothers and their families in Byers, Colorado, faces the challenge of conserving water resources for his dryland crops. The Linnebur family farm has thrived in part because they use no-till and innovative practices such as fertilizing with bio-solids to maximize soil health and production. Problem, solution, preservation; this formula is one that all farmers strive to balance, and each go about it in ways that make the most sense in their region.
"We can't grow our money crop — lettuce, onions and sugar beets — year after year. You have to have a rotation, and wheat is a good rotational crop for us. It lets us control weeds and disease that affect the other crops and gives the ground a chance to rest," said Motter.
Motter's reliance on irrigation doesn't mean his farm is less sustainable. The Imperial Valley grows 85 percent of the nation's lettuce in the winter months of the year, and with or without its wheat production, the region will continue to grow its vegetable crops. By rotating wheat with that lettuce production, Motter reduces the amount of water his farm uses.
"If we want to talk about sustainability issues in relation to wheat crops, the primary issue is to use our water as efficiently as we can, and we work to improve that every year," said Motter.
Linnebur added, "Being a good steward of the land is what every farmer is trying to achieve. We are not trying to mine the land for what we can get out of it in the near term, because we want to pass it on to our children."
Family. That's important to both Motter and Linnebur. Regardless of the size of their farm, at the end of the day they just want to do right by their community and the food they would give their own kids.
"Sustainability is more than just environmental. The fact that we are raising our family on this farm is what keeps our love for the land in place. You have to love the land, if you want it to support you," said Linnebur. "First and foremost, sustainability is economical and generational – which leads to environmental sustainability."
To learn more about Motter, Linnebur and how other wheat farmers in the United States practice conservation across varied landscapes and vegetation, please visit www.uswheat.org/factsheets.