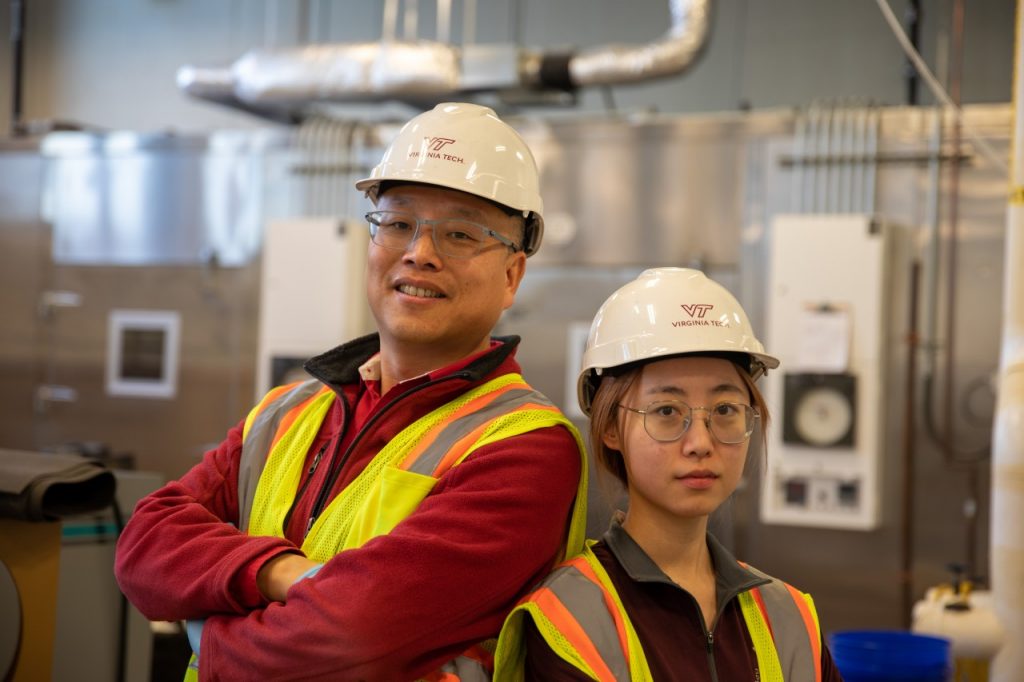 Image: Zhiwu "Drew" Wang (at left) and Ph.D. student Xueyao "Kira" Zhang in Wang's lab in the Human and Agricultural Biosciences Building I, where the applied research on bioplastics is conducted. Photo by Max Esterhuizen for Virginia Tech.
The U.S. Department of Agriculture (USDA) is investing $9.5 million in sustainable bioproduct manufacturing in the United States. Three projects will receive funding through USDA's National Institute of Food and Agriculture's (NIFA) Bioproduct Pilot Program, which supports the development of value-added products from agricultural commodities. Each of the projects proposes lower-cost, sustainable alternatives to conventional products, from bioplastics made from food waste to biobinders for renewable roads made using swine manure.
USDA's investment, funded by the Infrastructure Investment and Jobs Act, underpins efforts to develop circular bio-economies, where agricultural resources are harvested, consumed, and regenerated sustainably.
According to Agriculture Secretary Tom Vilsack, "Adopting a more circular economy ensures that wealth and other economic benefits in the form of jobs and other opportunities are created, and stay, in rural communities. We must support and incentivize practices like these, because it is what consumers want and what farmers, and our planet, need."
The three funding awardees are:
Virginia Polytechnic Institute and State University, for a project to convert food waste into biodegradable, PHA-based bioplastics that can be used for consumer plastics, including flexible and rigid packaging and containers for food and beverages.
University of Illinois Urbana-Champaign, for plans to convert swine manure and other organic feedstocks into biobinders for asphalt that increase the quality of recycled asphalt pavements.
Soylei Innovations, of Ames, Iowa, for an initiative designed to transform high oleic soybean oil into thermoplastic rubber for pavements, which has the potential to extend repair longevity for existing surfaces.