An innovative use of soybean oil is driving sustainable and conservation uses in the rubber tire industry.
A new tire technology using soybean oil is helping tire performance and improving manufacturing efficiency while also reducing energy consumption.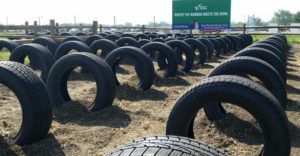 The commercial use of a new soybean oil-based rubber compound is set to enhance tire performance in dry, wet and winter conditions. The Goodyear Tire & Rubber Company reports that their scientists and engineers have created a tread compound, or formulation, with soybean oil.
By using a naturally derived, cost-effective, carbon-neutral and renewable source such as soybean oil, it found a new way to help keep the rubber compound in tires pliable during changing temperatures. This is a key performance achievement that maintains and enhances a vehicle's grip on the road surface.
"Goodyear and the soy checkoff (U.S. soybean levy board) share something special: a commitment to innovation," says John Motter, United Soybean Board chair and farmer from Jenera, Ohio. "When we started working with them more than six years ago, it was just an idea, a way to build demand for soybean oil. Now, we have a tire that shows what soy can do on the road."
Goodyear's Assurance WeatherReady tires will be widely available in the U.S. this month (September) and will be offered in a wide range of sizes, covering 77% of cars, minivans and SUVs on the road today.
Source: Goodyear, United Soybean Board (April 2020 new story)