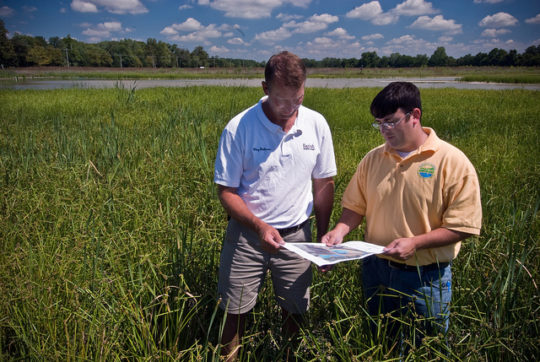 American farmers are critical to the goals of conservationists. A recent USDA census of agriculture found that approximately 40% "of all U.S. land is farmland." Everything farmers do directly impacts conservation efforts; many farmers would point out that they are, by virtue of their livelihood, conservationists.
The National Resources Conservation Service (NRCS) recognizes the important link between conservation and farming and over the decades, it has committed to providing farmers with free "technical assistance and advice for their land."
Commitment to environmental sustainability and conservation efforts in the U.S. stretches back more than 100 years beginning in the early 1900s with the enactment of federal laws that protect wildlife and food production. In 1935, the Soil Conservation Service (now the NRCS) was created as a branch within the United States Department of Agriculture (USDA) with the intent to stop the waste of soil and water, decrease the negative effects of grazing, and help farmers become better managers of their land. Through the years, NRCS has introduced programs, grants, and presented research aimed at improving conservation habits across the country.
Farmers use NRCS' on a regular basis, including South Dakota farmer Dawn Scheier. Scheier takes full advantage of government experts; she makes certain to consult them whenever the family makes decisions about "managing drainage and rainwater" on the farm. What's important to Scheier is to be thoughtful as to preserve wetlands where her home state's iconic wildlife—ducks, geese, butterflies, honeybees, muskrats and more— thrive.
Additionally, a number of NRCS programs reward farmers for conservation innovation, and support them in their efforts to increase sustainability.  At the same time, farmers in such schemes are held accountable and are subject to routine audits to ensure compliance.
Dry bean farmer Nate Hultgren became involved in NRCS' stewardship program in 2012. Through some funding from NRCS, the Hultgren family farm has been able to initiate groundbreaking practices that increase sustainability and directly contribute to national conservation efforts such as "variable rate fertilizing, GPS-controlled sprayer application, livestock grazing management programs, nitrogen stabilization, phosphorous management, plant tissue testing, and tillage reduction."
In early August, USDA released a three-year action plan to work with farmers to improve the health of the Chesapeake Bay, the United States' largest estuary, and third largest estuary in the world. "Agriculture is an integral part of the Chesapeake Bay watershed's culture and economy. It plays a critical role in improving water quality and the health of the bay," said Bill Northey, USDA Under Secretary for Farm Production and Conservation, in a 2018 news release.
Since 2009, NRCS has provided more than €878 million ($1 billion) in technical and financial assistance in the Chesapeake Bay region to improve conservation efforts. This includes working with farmers in the watershed to identify issues and opportunities as well as training them on specific techniques, practices and strategies to address issues and bolster opportunities.
The U.S. federal government and farmers take their responsibility to the land seriously, just as their forebears did more than a century ago, and continue to work in tandem to leave the land better than we found it.
This article has been updated since it was first published in 2018.