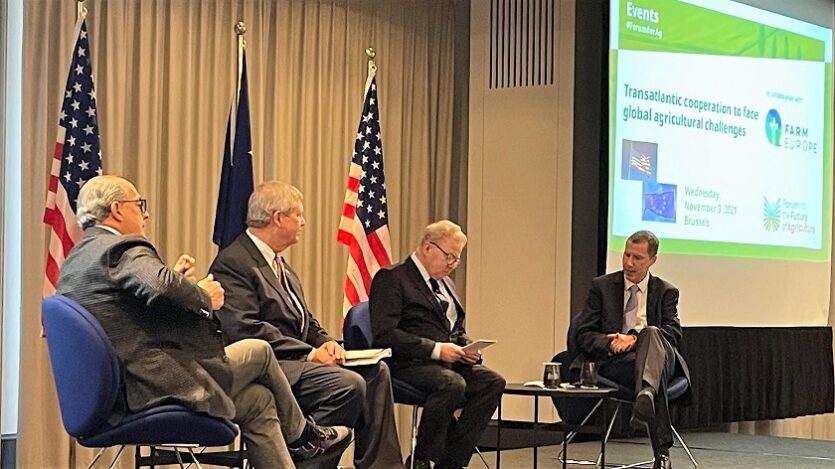 The U.S. and EU have created a new transatlantic cooperation on agriculture to address the global challenges of sustainability and climate change.
According to U.S. Secretary of Agriculture Tom Vilsack, this is "the first real opportunity in almost a decade for our respective ministries to work in partnership to ensure a sustainable, climate-smart future for all of agriculture."
Despite their differences, the U.S. and EU recognize that they have common objectives on agriculture and the climate, and the new cooperation is a platform for them to exchange knowledge and information and promote mutual understanding and trust.
Speaking at the launch in Brussels, Secretary Vilsack said, "We must work together on both sides of the Atlantic to structure our food systems in a way that is good for farmers, for consumers, for communities both rural and urban, and for the planet.
"At the same time, we must also guard against trade barriers and restrictions that are not based on science that may seek to discriminate against particular production practices. Not only do unjustifiable trade barriers take an economic toll, they stifle the development of new technologies needed to address the challenge of feeding a growing population on a smaller environmental footprint."
EU Commissioner for Agriculture Janusz Wojciechowski agreed on the need to work together more closely than before:
"As we transition to greener food production under the Farm to Fork Strategy, we want to engage with our American friends, to share our progress, and our experiences. I believe that we can learn a great deal from each other. For this, we need to exchange our experiences and information more fluently than we have done in the past."
In practical terms, the collaboration will involve the sharing of ideas, visits and exchanges and participation in joint activities across three key areas:
Sustainability in agriculture
Climate in agriculture
Agri-food exchanges and food system resistance
"It's frankly time to roll up our sleeves and reengage on the most pressing issues facing agriculture and our rural communities," added Secretary Vilsack. "I believe the world is watching and waiting for us to act."
Supporting information
For more details on the U.S./ EU cooperation and its objectives, read the joint statement from EU Commissioner for Agriculture Janusz Wojciechowski and U.S. Secretary of Agriculture Tom Vilsack.
Watch a video of the launch event.