Milan: July 3, 2015
U.S. Secretary of Agriculture Thomas J. Vilsack joined members of the U.S. Sustainability Alliance (USSA) at the EXPO 2015 in a panel discussion on the benefits of sustainability practices across U.S. agriculture, forestry and fisheries.
The event, U.S. Sustainability: This Is How We Grow was held at the USA Pavilion on July 3 and was opened by the President of the American Chamber of Commerce in Italy, Mr. Simone Crolla. U. S. Ambassador Phillip Reeker welcomed Secretary Vilsack and a White House Delegation to the EXPO to the seminar.
Secretary Vilsack highlighted the long history in the United States of conservation and sustainable practices across American agriculture. He pointed out that 97 percent of the 2.2 million farms in the U.S. were operated by families. And he emphasized that it was important to recognize the best mix of technologies and techniques to achieve more sustainable production would vary by location.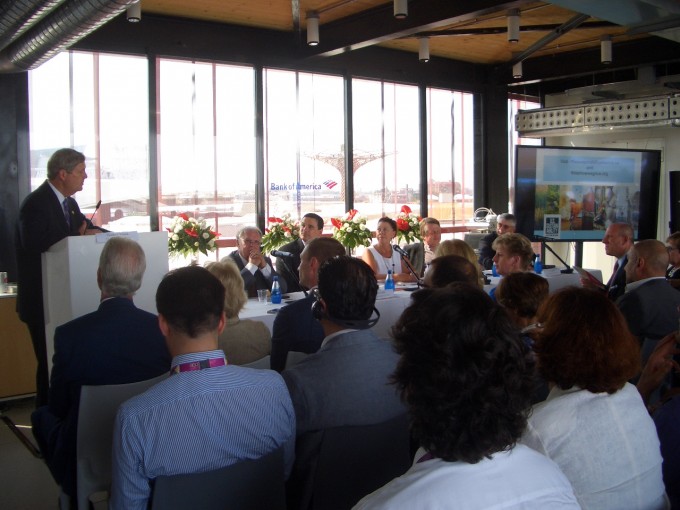 U.S. Secretary of Agriculture Thomas J. Vilsack addresses the audience in the USA Pavilion at EXPO Milano 2015 on sustainability and climate smart agriculture. Panel members of the U.S. Sustainability Alliance are (from left): David Green;     Chad Frahm; Kim Dietz; Jon Harman and Jim Miller.
With the global focus on climate change aspects on agriculture and food security, he said the United States was now also committed to implementing climate smart agriculture principles with an integrated approach to climate change adaptation, conservation of natural resources and socially equitable business practices.
The USSA panel was opened by David Green who gave an overview of the background to the U.S. Sustainability Alliance and its work with European customers, industry partners and food retailers and processors. He also warmly welcomed the Organic Trade Association as the newest member of the Alliance.
The seminar participants heard of the approached to sustainability and conservation from: Mr. Chad Frahm, Senior Vice President, Innovation Center for US Dairy; Ms. Kim Dietz, Board Member of the U.S. Organic Trade Association and Senior Manager, Compliance & Industry Relations, JM Smucker Company; Dr. Jon Harman, European Representative, Alaska Seafood Marketing Institute and Mr. Jim Miller, Board Vice Chairman, U.S. Soybean Export Council.
See presentations of USSA Panelists here.