To mark Black History Month, we profile the fifth-generation Black-owned family farm supplying Target with sustainable cotton as part of the Target Forward sustainability strategy.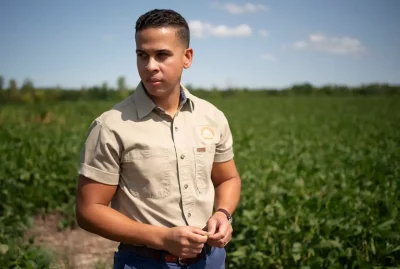 Since 1877, the Bridgeforth name has stood the test of time – part of just 1.5% of Black-owned U.S. farms. Today, the family's fourth and fifth generations operate the 4,045-hectare farm in North Alabama. The five-strong team comprises Bill Bridgeforth, his brother Greg, Bill's sons Kyle and Carlton, and Greg's son Lamont. With the help of other family members, they grow soybeans, corn, wheat, canola, sorghum, and cotton, which they supply to high-profile customers, including American retail giant Target.
Bridgeforth's relationship with Target began in early 2022 when it started supplying sustainable cotton for the retailer – part of Target's plans to increase spend with Black-owned businesses. Kicking off with a Black History Month assortment of exclusive tees, their partnership has continued to flourish and is rooted in shared values and a commitment to making the world a more equitable, inclusive place.
The farm uses sustainable practices such as drip irrigation which saves up to 80% more water than conventional irrigation. Soil moisture meters complement the process, helping to identify moisture saturation and avoiding over-watering the crop.
However, sustainability means more to Bridgeforth Farms than protecting the land. It is about continuing the family legacy, supporting black growers, and inspiring a passion for agriculture among future farmers.
"We're part of a dwindling population; there's certainly not a lot of Black farmers," says Kyle Bridgeforth. "In an industry where we're largely underrepresented, we've had a huge impact throughout the history of agriculture."
And this is an impact they are keen to maintain as they work to ensure the next generation of Bridgeforth farmers inherit a better world.