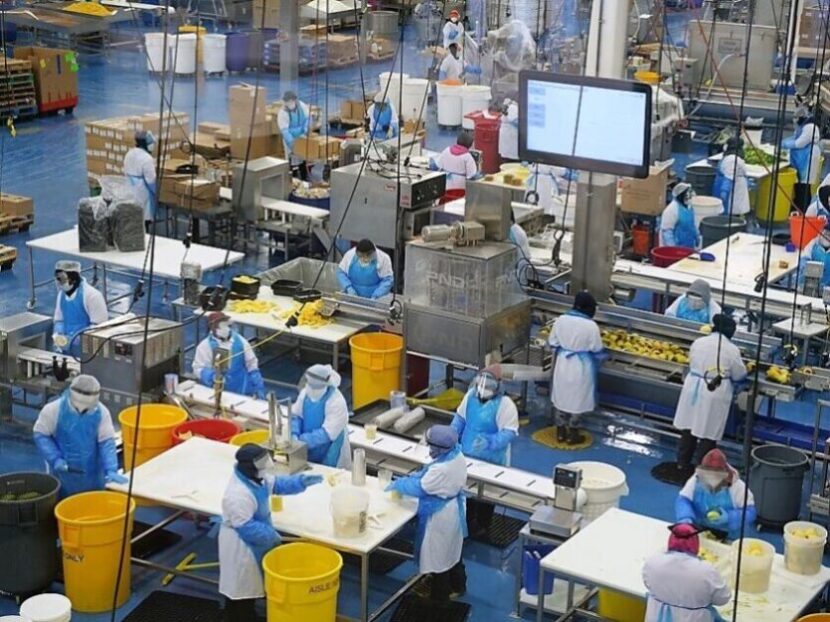 A look at how U.S. farmers and the food supply chain are responding to the pandemic and the lessons they have learned for the future
By Janine Maxwell, The U.S. Sustainability Alliance
Farmers are used to dealing with uncertainty, forever at the mercy of the weather and fluctuating market prices. But nothing could have prepared them for the coronavirus outbreak, which transformed life as we know it almost overnight.
Consumers, accustomed to buying the food they want, when they want and where they want, were suddenly confronted with empty supermarket shelves as people stockpiled out of fear of running out. Paradoxically, on many farms, farmers were forced to dump milk and plow vegetables back into their fields. It's not that there wasn't enough food, or too much, it's that demand suddenly changed and the supply chain was forced to adapt.
The Covid-19 pandemic has challenged U.S. farmers and ranchers like never before, but they continue to find ways to put food on our tables while protecting their own livelihoods.
Exceptional Challenges and Disruptions
The food supply chain is under unprecedented strain. With offices, schools and restaurants closed, consumers have switched to buying most of their food at the local store. The type of food they are buying has changed, too (flour, dry yeast and frozen vegetables have never been so popular). The food system has pivoted, but it has been plagued by issues. Meat-processing giants Tyson Foods, Smithfield Foods and JBS have been hard hit by the virus which has led to temporary closures, culling of animals and meat shortages. Access to labor is another concern. Fruit and fresh produce need to be harvested but workers are in short supply – either ill or unable to travel to take up their usual seasonal posts due to border closures or transportation issues. These disruptions coupled with plummeting commodity prices have led to a three-year low in farmer optimism.
A Boost to Business for Some
Not all of America's farmers and ranchers have been adversely affected. Some have experienced increased demand for their products in these crisis times. The organic sector's popularity continues to rise as shoppers reach for 'healthy, clean' food to nourish their families during the global pandemic. In an Organic Trade Association flash poll of more than 3,000 "likely organic shoppers" in late April and early May, more than 90% of respondents indicated that in their current food shopping, organic is more important than ever.
U.S. peanut farmers are enjoying a boost, due to skyrocketing sales of peanut butter. The almond industry has also been working flat out to meet the growing requirement for 'healthy', shelf-stable almonds and almond products, while U.S. Dry Bean Council research shows that consumers are eating more dry pulses and beans at this time.
Essential Aid for Farmers
For farmers whose operations have been hard hit, help is at hand. The U.S. Government's Coronavirus Food Assistance Program (CFAP) will provide up to $16 billion (just over €14 billion) in direct payments to farmers and ranchers directly impacted by the coronavirus pandemic.
Part of the program, the Farmers to Families Food Box is set to purchase nearly $3 billion (c. €2.65 billion) in fresh produce, dairy and meat supplies from farmers. This is packaged and distributed to food banks and community organizations, helping farmers who have lost their markets and consumers who are in need.
There are plenty of other examples of community schemes that are redistributing excess perishable produce. In Utah and Idaho, Dairy West's Curds + Kindness Program takes surplus milk and matches it up with dairy processing plants where it is turned it into high-quality dairy products such as cheese and butter which are sent to local food banks.
Meanwhile in California, Grimmway Farms, the largest organic vegetable producer in the United States, has supported an initiative to provide surplus produce to hospital workers on campus via temporary pop-up stores.
New Business Models and Innovation
Government relief packages and community initiatives (such as those described above) are vital – without these market outlets some farmers would struggle to survive. However, there are also examples of farmers helping themselves.
Some are adapting their business model in response to changing demand.
No longer able to rely on the foodservice industry, many are now supplying to retail, moving to direct-to-consumer models or selling online.
Some are selling through online farmers' markets with curbside collection or offering delivery, while others are operating as drive-throughs or have set up produce stands on their farm.
This approach is proving successful, driven by consumers' desire to buy local and to know, now more than ever, where their food is coming from.
Some farmers say that selling direct is delivering record revenues. In northern Wisconsin, a farmers' collective is making thousands of dollars a week in a season when sales are normally zero.
In other good news for farmers, Community Supported Agriculture (CSA) has seen a spike in demand. This is where consumers sign up for a regular box of farm produce, everything from fruit and vegetables to honey and sustainably reared meats.
Increased Use of Automation
There is evidence that technology is helping farmers deal with the pandemic. In California, venture capital-backed FarmWise reports a dramatic increase in demand for its robotic weeding system since the Covid-19 outbreak. This is helping to improve farm efficiencies in the face of labor shortages.
Could technology play an even greater role in the future? Erik Pekkeriet, Business Development Manager for the Agro Food Robotics program at Wageningen University in the Netherlands, believes so. "In the agriculture and food industries, the use of robots is very promising", he says. He expects that they will be performing all of the menial, repetitive work in 10 to 20 years from now.
Certainly, in an industry that is reliant, perhaps overly reliant, on manual labor, technology could help plug the gap both on and off the field – from automated harvesters to robotic meatpackers.
Increased automation is something Tyson Foods is already working on at its state-of-the-art Manufacturing Automation Center in Springdale, Arkansas, and it is possible that the pandemic will accelerate its adoption industry-wide.
Improved Resilience
Covid-19 has also highlighted vulnerabilities in the food supply chain, and the priority now will be how to increase its resilience to deal with future crises.
Former U.S. Secretary of Agriculture, Tom Vilsack, now President and CEO of the U.S. Dairy Export Council, says that one solution could be to replace the large processing facilities the U.S. food system currently relies on with fewer, smaller ones.
That way, if one facility went down, it might not be quite so disruptive.
However, as Vilsack points out, "More facilities mean more capital costs, more infrastructure, more management – and that's expensive. That would affect the cost of food to consumers."
He suggests that the Department of Agriculture could create a program to support a complementary system of smaller processing facilities that are designed to deal with food that is produced and sold locally or regionally, not frozen and transported thousands of miles.
Digitization also has a role and could be used to improve supply chain visibility; when you can see where problems and disruptions are, you are much better able to mitigate them.
Clearly more innovation is required and The United States Department of Agriculture (USDA) recognizes this and is working on an innovation strategy that will help U.S. farmers meet future demands.
Silver Lining
The Covid-19 pandemic has turned lives and livelihoods upside down, but it may bring benefits in the longer term. Certainly, consumers care more than ever about their food and where it comes from, and the reputation and standing of the agriculture industry have risen as a result.
Few can doubt the vital role U.S. farmers and producers play in keeping our nation fed and nourished. We are also likely to see a more resilient farming and food system. By stretching the meaning of worst-case scenario, Covid-19 provides a new point of reference for future plans, helping to create a food system that is more efficient today and better able to withstand crises in the future.