Encouraging regenerative agriculture and climate smart farming, and making new technology more accessible to farmers are key priorities for the Biden-Harris administration, says new U.S. Secretary of Agriculture Tom Vilsack.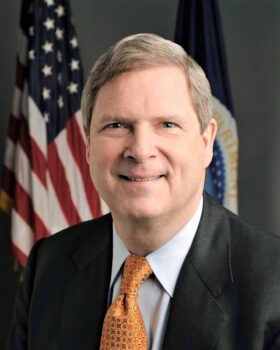 Addressing the Forum for the Future of Agriculture 2021, Secretary Vilsack outlines how climate initiatives can create new revenue streams for farmers while helping the United States achieve its goal of zero net emissions from agriculture by 2050.
There is a tremendous opportunity, Secretary Vilsack says, for agriculture to be part of the solution to climate change – and to show other industries how it is done. This focus on sustainability will not only help farmers meet growing consumer demand for sustainably produced food, it will also open up new revenue streams created by, for example, new products made from agricultural waste. And it will improve soil health and water quality, increasing efficiencies and ultimately enabling farmers to feed a growing, hungry population.
However, according to Secretary Vilsack, achieving this vision of efficient, effective, environmentally and economically sustainable farming relies on:
Increased research and innovation: The United States has made great strides in this area, but still has more work to do, particularly in terms of making new techniques and technologies more available to farmers in a more affordable way.
Greater cooperation – between the US and EU and globally: The EU and U.S. have a shared vision of an environmentally, economically and socially sustainable food and agriculture system, but they have different ways to get there. The UN Food Systems Summit in September is "a great opportunity for us to have a very positive and constructive conversation" and for the global community to come together and commit to a net zero future.
Open, transparent, competitive, rules-based trading systems: It is important that we don't "create barriers based on a particular method of production if the science supports that method of production and if it does in fact help to advance a more sustainable environmental, societal and economic basis for agriculture and food."