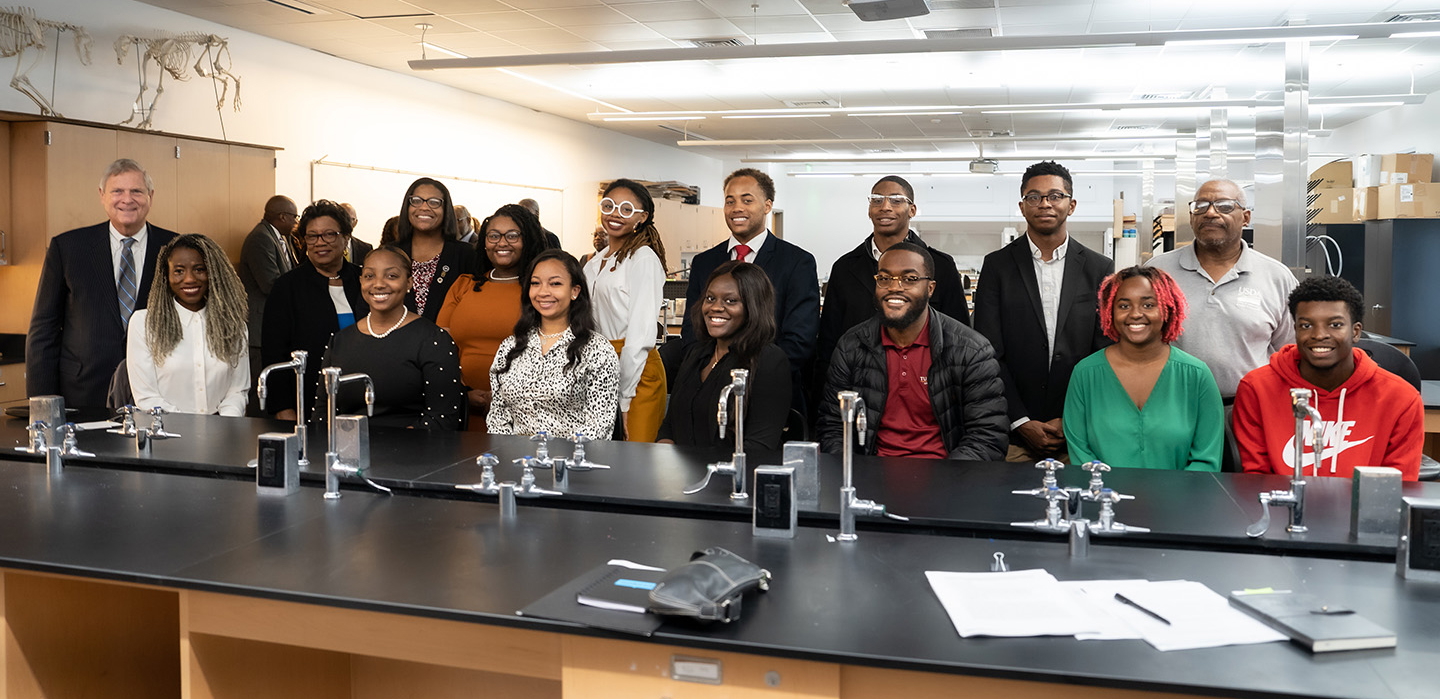 Agriculture Secretary Tom Vilsack meeting with the 1890s Scholars & USDA APHIS Foreign Service Fellows at Tuskegee University
Seventy-one climate-smart projects that expand opportunities for small and underserved producers will receive $325 million in funding through USDA's Partnerships for Climate-Smart Commodities initiative, Secretary Vilsack announced from Tuskegee University, a Historically Black College and University and 1890 Land-grant University.
In September, 70 large projects were chosen to receive $2.8 billion in the initiative's first funding round. A further 71 smaller-scale projects have now been selected in the second tranche of funding for grants ranging from a quarter of a million to five million dollars. This brings the Biden-Harris Administration's total investment in projects to combat climate change and create new market opportunities for America's producers to $3.1 billion. Secretary Vilsack estimates that more than 60,000 farms will be engaged in one or more of the projects, encompassing more than 25 million acres of working land, with 60 million metric tons of carbon dioxide equivalent expected to be sequestered as a result.
Speaking at the launch event, Vilsack said, "Small and underserved producers are facing the impacts of climate change head on, with limited resources, and have the most to gain from leveraging the growing market demand for agricultural goods produced in a sustainable, climate-smart way. Our goal is to expand markets for climate-smart commodities and ensure that small and underserved producers reap the benefits of these market opportunities."
Projects selected in the second round of funding include:
A program led by Tuskegee University focused on climate-smart livestock production for minority producers of sheep and goats
A project from the InterTribal Buffalo Council and other partners that will involve working with 76 tribes to incentivize their use of climate-smart practices related to buffalo herds
A project led by Marbleseed, formerly known as the Midwest Organic and Sustainable Education Service (MOSES), to help organic grain producers, as well as those interested in transitioning to organic, to adopt climate-smart agricultural practices.
Read the press release.
Watch Secretary's Vilsack's address at the launch event.
Take a closer look at some of the climate-smart projects being funded.