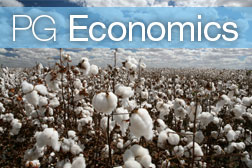 According to a recent report released by PG Economics, crop biotechnology continues to provide substantial economic and environmental benefits, and allows farmers, especially those in developing countries to grow more, using fewer resources.
"In 2013, the 18th year of widespread adoption of crops using biotechnology innovations, the technology has continued to provide more productive agriculture,  higher incomes to farmers and a better environment for citizens.  A majority of these benefits continue to go to farmers and rural communities in developing countries" said Graham Brookes, director of PG Economics, co-author of the report.
Highlights from the report include:
Global food security and reduced pressure on scare land resources
Higher yielding crops
Better returns for farmers – especially in developing countries
Good investment returns for farmers
Environmental improvements
The material contained in the GM crops impact report – the tenth annual paper on the global economic and environmental impact of genetically modified (GM) crops – aims to provide insights into the reasons why so many farmers around the world have adopted crop biotechnology and continue to use it in their production systems since the technology first became available on a widespread commercial basis in the mid 1990s.  The paper is intended for use by a wide range of people with interests in agriculture across the world – farmers, farmer organizations, industry associations, inter-professional bodies, input suppliers, users of agricultural products, government departments, international organizations, non governmental organizations, politicians, academics, researchers, students and interested citizens.
The paper draws, and is largely based on, the considerable body of peer reviewed literature available that has examined the economic and other reasons behind farm level crop biotechnology adoption, together with the environmental impacts associated with the changes.
The report is available to download at: www.pgeconomics.co.uk.