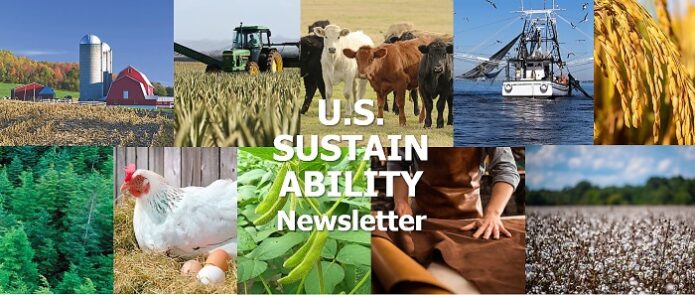 MAY 2021
U.S. Launches Agriculture Innovation Mission (AIM) for Climate
The United States has signed a milestone agreement to fund global agricultural science research with the United Arab Emirates in order to counter climate change. Endorsed by the UK's COP 26 Presidency, AIM for Climate plans to drive rapid, transformative climate action in all countries. Read more.
USDA Food Loss and Waste Innovation Fair Goes Virtual
The U.S. Department of Agriculture (USDA) is hosting its first Food Loss and Waste Innovation Fair on May 26. The virtual event will showcase USDA's investments and leadership in reducing food loss and waste. Learn more about the event.
Cornell's Dr. Sarah Evanega Wins 2021 Borlaug CAST Communication Award
Cornell research professor Dr. Sarah Evanega is the winner of this year's CAST Communication Award for outstanding contribution to the advancement of science. Dr. Evanega is recognized for her leadership of the Alliance for Science – a global platform that has trained 800 people in 50 countries with progressive tools for communicating agricultural science courses. Read more about Dr. Evanega's work.
U.S. Rice Farmers Take Pride in Looking After the Land for Future Generations
U.S. rice farmers are committed to maintaining, and indeed improving, the land for future generations. That's why they use a range of conservation practices, which has led to a 39% increase in land use efficiency and a 52% reduction in water consumption in the past 36 years. Lydia Holmes, USA Rice Federation's Director of Sustainability, outlines the industry's successes to date and its ambitious targets for 2030. Read the article.
How the Bailey Family is Future-proofing Whitman County Wheat Production
After starting his career at a major farm lending institution, Gary Bailey returned to his family's farm in St John, Washington in 1989, to work with his parents and two brothers. Today, Gary works the farm's 1,800 hectares (4,500 acres) alongside his brother Mark and his niece Erin, the next generation. Read more about their drive to protect their farmland and their heritage.
Precision Ag is Good for Planet and Profit, Says Combined AEM Environmental Study
Precision agriculture technologies are good for the planet and the bottom line. A new study, Environmental Benefits of Precision Agriculture, from the Association of Equipment Manufacturers and partners including the American Soybean Association, highlights how fuel savings alone due to precision ag is the yearly equivalent of taking nearly 200,000 cars off the road. Read the study findings.
Did You Know?…
Seaweed could solve the burping cow problem! A University of California Davis study found that feeding cattle algae reduces methane by 82%, promising more sustainable livestock production. Source: UC Davis

What We're Reading & Watching
More crop per drop: we're taking a deep dive into five decades of water use efficiency in the California almond industry. More here.
Peanut Harvest Tour: we're experiencing the sights and sounds of harvest time on an Alabama peanut farm – virtually, of course. Click here.
Carbon cowboys: this documentary series on the cattle ranchers championing regenerative agriculture is keeping us informed and entertained – in equal measure! Watch here.
USSA Member Organizations:
Alaska Seafood Marketing Institute; Almond Board of California; American Hardwood Export Council; American Peanut Council; Cotton Council International; Food Export Association of the Midwest; Food Export USA Northeast; Leather and Hide Council of America; North American Export Grain Association; North American Renderers Association; Organic Trade Association; Softwood Export Council; USA Poultry & Egg Export Council; USA Rice Federation; U.S. Dairy Export Council; U.S. Dry Bean Council; U.S. Grains Council; U.S. Meat Export Federation; U.S. Soybean Export Council; and U.S. Wheat Associates
Copyright © 2021  | The U.S. Sustainability Alliance. All rights reserved.
Permission to reprint information in whole or in part contained on the USSA website is granted, provided customary credit is given.
The U.S. Sustainability Alliance (USSA) is a group of American farmers, fishermen and foresters who have come together to explore and share our values regarding sustainable practices and conservation programs.
We welcome your comments and views. Please contact us via this form.